We are always in close proximity to wildlife and nature as humans. Nature and animal enthusiasts have always been drawn to wildlife. India is without a doubt the best place in the world for wildlife trips.
However, with over 100 national parks, 40 tiger reserves, and 450 wildlife sanctuaries in India, deciding where to travel for wildlife holidays can be tough and perplexing. Every corner and cranny of India, from the highlands of Uttarakhand to the deserts of Rajasthan, is home to diverse wildlife.
Also, if seeing tigers (Royal Bengal Tigers) is the major reason for your wildlife tour, India is the place to go. In which a huge numbers of visitors reach out and these national parks have become a holiday destination for travelers all around the world.
In this blog, we'll tell you about four of the top places in the world to go on a tiger safari vacation
1) JIM CORBET NATIONAL PARK
Jim Corbet National Park is the oldest national park in India. Situated at Nainital District in Uttarakhand which is about 270Km from Delhi. It is mainly famous for tiger viewing as its India's Most famous tiger viewing spot.
Wildlife Found-Royal Bengal Tigers and Asiatic elephant, which are Asiatic Black Bear, Sloth Bear, Walking Deer, Hog Deer, Sambar, Yellow-throated Marten.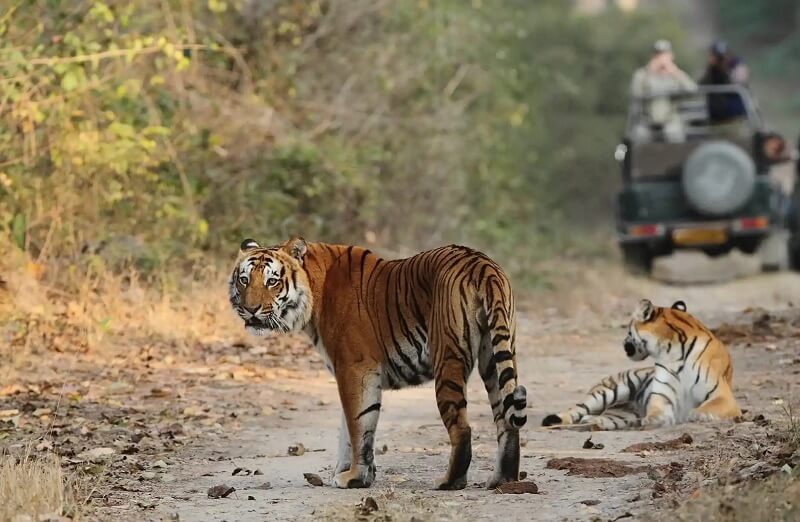 How to reach
By Airways
The nearest civil airport to Corbett is Delhi's Indira Gandhi International Airport. Visitors can fly direct or connect to Delhi and then travel to Corbett by road or rail because Delhi has excellent air connectivity with India and other foreign cities.
By Railways – The nearest station is Ramnagar Railway Station, which is around 12 kilometres away
Activities & Facilities
It is the only national park in India which provides night camp stay in forest, where you will be staying in tents beside the beautiful flowing river. You can also enjoy Elephant Safari.
BUDGET- Rs 2,000 Per Night stay along with forest safari.
Hotels And Resort Near By-
• Corbet Orchid View, Ramnagar
• Corbett Castle, Ramnagar
• The Pahadi Organic, Ramnagar
2) BANDHAVGHAR NATIONAL PARK
Bandhavgarh National Park established in the year 1968,located in Umaria district of Madhya Pradesh. Its an amazing forest with the highest body of Royal Bengal Tiger in the world which is about 8 Tigers per sqkm.
Wildlife found-White Tigers, Bengal Tigers, Leopards, Sambar, Barking Deer, Wild Boar, Gaur, Chinkara, Asiatic jackal, Bengal fox, sloth bear, ratel, grey mongoose, striped hyena, jungle cat, leopard etc.
Activities & Facilities
It provides camping with various facilities like Bonfire and team building activities, trekking , barbeque grill also.
Budget-Rs 2000per person, Rs 6500 Safari (6 person in 1 safari)
Hotels and Resorts Near By-
• Tiger Den Resort, Bandhavghar
• TigerGhar Wildlife Resort
• The Wildflower Resort, Bandhavghar
3)KANHA NATIONAL PARK
Kanha National Park a wildlife sanctuary established in the year 1955, Which is the largest Park in Central India spread in a area of about 940Sq Km located in Madhya Pradesh about 160Km from Jabalpur.
Wildlife Found-A High Density of tiger, leopard, wild dog, sloth bear, foxes and jackal.
How to reach
The nearest road way to reach Kanha national park through train is by reaching the nearest station i.e Gondia which is 145km away from Kanha although it is suggested to go by road to reach Kanha.
I you want to reach by Air , Jabalpur does have a airport u can reach from Delhi or Mumbai.
Activities & Facilities
Kanha National Park also provides facilities for Camping which is in the kasli entrance gate of Kanha National park. It provides facilities and activities like Cottage stay , bird Watching ,bon fire , Tribal Dance etc which costs around Rs10000-15000 depending on Facilities.
Budget-Rs3000-4000 Per Night Including Safari
Hotels and Resorts Near By-
• Tulip Tiger Resort
• Hotel Kanha Park
• Mogli Resort
4)KAZIRANGA NATIONAL FOREST
Kaziranga National Park which one of the worlds largest one journed Rhinoceroses along with very high density of tigers located in the state of Assam of India , established in the year 1908 spread over an area of 430kmsq.
Major wild Life– one horned Rhinos, elephant, tiger leopard.
How to reach
The nearest airport is Orhat Airport, which is 96 kilometres from Kaziranga National Park. Tourists can also fly into Tezpur Airport, which is 59.9 kilometres away from Kaziranga National Park.
By Rail: The nearest railway station is Furkating Junction, which is only a two-hour drive from Kaziranga National Park.
By Road: To access the park by road, first travel to Jorhat or Guwahati (240 km) and then take (a cab or a bus).
Activities & Facilities
You can visit the Majuli Island near the national park.You can take the toor of the teas state,near by there is the splendid Kakochang Waterfall that u can enjoy.You can also enjoy engaging bird watching out there.
Budget-Rs4000-5000 Per person including safari
Hotels and Resorts Near by-
• Kaziranga Eco Village
• Landmark Woods
• Bagori Resort
These have been the top National Park People Visit in Vacations to explore the the dense forest to watch wild animals and try to spend few days moving away from the city life . So these are some of the top National park which people spend time in their Holidays.